Instrumentation Tube Fitting Selection Guide
OneHydraulics represents Superlok Tube Fittings. Our Tube Fittings are produced under strict qualitycontrol using the highest quality raw materials. Positivematerial identification (PMI), rigorous testing and qualityassurance procedures are the foundation of theSuperlok brand.


Tube Fittings tighten easily and are leak-freeunder shock, vibration and temperature cycling. Our fittings feature exceptional internal surface finish whichreduces particle entrapment, potential contamination andimproves the flow of liquids and gases.


Instrumentation Valves and Fittings are specifiedacross many global markets including Automotive, Aerospace,Semiconductor, Shipbuilding and Petrochemicalindustries.
Structure of Tube Fittings
Superlok consists of 4 precision parts:
All parts are manufactured to very strict tolerances under tight quality control measures.
The result is a highly reliable product that is suitable for demanding conditions across all industrial markets.


Tube Fitting Installation Instructions
Our Tube Fittings are be delivered to the customerin a completely assembled state, ready for immediateuse.
Disassembling the product before installation is notrecommended as doing so can result in contaminationwhich can cause leaks.


OneHydraulics Tube Fittings are installed in three easy steps:
Step 1
Insert the tubing into Tube Fitting. At thispoint, make sure that the tubing is in contact with theinternal shoulder of fitting and then finger-tighten the nut.

Step 2
Before tightening the nut, mark the startingpoint
at the 6 o'clock position.

Step 3
While holding the fitting body with a wrench, tighten thenut 1-1/4 turns to the 9 o'clock position for sizes 1/4"to 1". For 1/16", 1/8", and 3/16" tighten the nut threequarters turn to the 3 o'clock position. Ensure fitting isproperly made using a Gap Inspection Gauge.

Gaugeability
On initial installation, the Inspection Gaugeassures the installer or inspector that a fitting has beensufficiently tightened.Position the Inspection Gauge next to the gapbetween the nut and the body.
If the gauge will not enterthe gap, the fitting is
sufficiently tightened. If the gauge will enterthe gap,
additional tighteningis required.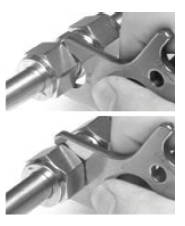 Installation for high pressure or severe service systems:
Since tubing has different O.D. tolerance, it is importantto have a common starting point to take out in dimensionalvariations.
This is done by tightening the fittingslightly until the tubing can not freely rotate in the fittingas it can in the finger-tight position.
At this point, tightenthe nut 1-1/4 turns.


Safety Considerations on Installations for High PressureSystems
1. Make sure the proper tubing wall thickness is selected in accordance with pressure ratings. Tubing should have a hardness of HRB 80 or less.
2. Never assemble or disassemble fittings when the system is pressurized.


Re-tightening Instructions:
Step 1
Pic. 1 shows the fitting in the disconnected position.Insert the tubing with the pre-swaged ferrules into thefitting body making sure the front ferrule is firmly seatedas shown in Pic 2.


Step 2
Finger tighten the nut and then with a wrench turn thenut to the original 9 o'clock position. At this point achange of resistance will be felt. Tighten the nut slightlymore and the installation
is complete as shown in Pic 3.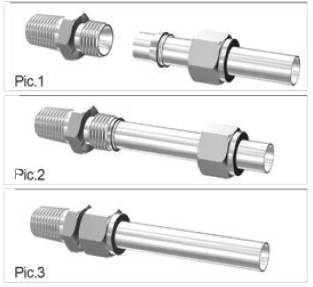 Use only high quality stainless steel tubing that is fullyannealed.
Seamless tubing or welded per ASTM A269,A213 or equivalent should be used with OneHydraulics TubeFittings.
The tubing must be a maximum hardness ofHRB 90 on the Rockwell Scale, however, HRB 80 ismore suitable for bending and results in easier fittingmake-up.
Superlok Tube Fittings are manufactured to be 100%interchangeable with comparable tube fittings on themarket.
Superlok fully warrants fittings interchanged withSuperlok components per the standard Superlok warranty.
Consult OneHydraulics for further details.
Superlok Tube Fittings are suitable for gas systems. Therecommended "best practice" standards below shouldbe followed:
1. Tubing hardness must be less than that of the ferrules.
2. Tubing should be free of surface imperfections and deformation.
3. Refer to table for selection of the appropriate wall thickness (only shaded areas should be selected for gas systems).
4. Tubing ends must be cut squarely and perpendicular to the center-line of the tubing. After the tubing is cut, it must be deburred on both the inside and outside with a high quality fully sharpened deburring tool.
5. Follow the Superlok installation instructions in the catalog.
6. Do not attempt to bend the tubing after a fitting has been installed in a fixed position.
7. Tubing systems should be installed to allow for adequate expansion and contraction as well as ease of maintenance.